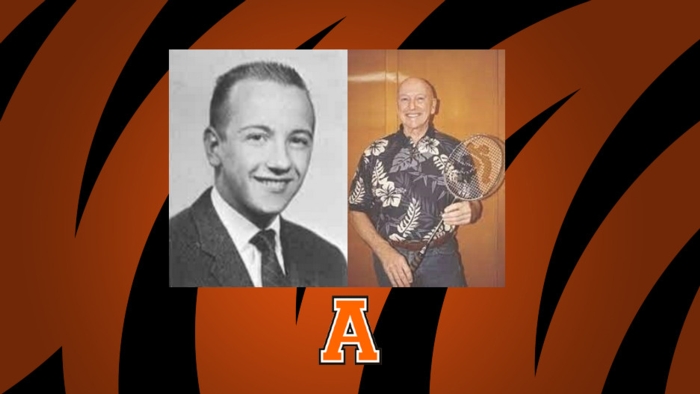 ---
James C. Lynch '60
80, of Gravenhurst, Ontario passed away on Saturday October 29, 2022, peacefully with family at his side. He was born to parents James and Ann, on July 7, 1942, in Buffalo, New York. James graduated from Amherst Central High School and received Bachelor of Science degree in Education from Buffalo State University. He worked for the Trillium Lakelands District School Board as a teacher, Student Services Coordinator and Principal. He married Nancy, the love of his life, in 1965, who survives him. Jim is also survived by his brother Skip and wife Jill, by his son Michael and wife Kirstie, his daughter Krista and husband Mike, and grandchildren Andrew, Brett, Jake, Kyla and Hannah. Jim was predeceased by parents James and Ann, and sister Nancy. Jim was known for his love of badminton, tennis, gardening, music, cooking, singing and spending time with his family. He is a member of the Canadian Badminton Hall of fame and was an International Umpire during several World Championships. His favourite accomplishment was umpiring at the Barcelona and Atlanta Olympic Games and having the opportunity to umpire the Men's Singles Gold Medal Match in 1996. The Family would like to thank the incredible Dr. Forrester, the staff of Granite Ridge Retirement Residence, the nurses and staff at Bracebridge Memorial Hospital and the truly amazing staff at Andy's House for their compassion and making Jim comfortable in his final days. The funeral will take place on Saturday November 5th at 1:00pm at the Trinity United Church 290 Muskoka Rd. N, Gravenhurst ON with a reception following the service. In remembrance of Jim's life, the family asks that any charitable donations be made to Andy's House, Hospice Muskoka who operate primarily on donations. Personal condolences and memories may be shared at www.cavillfuneralhome.com
---
From brother Waldo "Skip" Lynch '66:
I wanted to share some memories and accomplishments of my older brother Jim. My brother is in the high school athletic Hall of Fame and he is also in his college athletic Hall of Fame. Both of the these honors were achieved through playing tennis at a very high level.
Excerpt from the Buffalo State Athletics HOF
During his college career, Lynch won the singles and doubles competition in the State College
Tennis Championships for 3 years.
Between 1957 and 1965, he won over 100 tennis titles in singles, doubles, and mixed competition.
Jim eventually gave up competitive tennis and concentrated on competitive badminton. This had everything to do with the fact that Nancy , the love of his life, was a competitive badminton player herself, and they could spend more time together.
For a number of years, my brother was ranked and considered one of the best badminton players in the world. He and his partner beat the number one team in the world, on their home court in China, twice. This was when he played on the Canadian national team.
Jim was a champion, tennis player, badminton player, husband, father, grandfather, and brother.
I will miss him very much.
https://buffalostateathletics.com/honors/hall-of-fame/james-c-lynch/89
Original Obituary:
https://www.legacy.com/ca/obituaries/thestar/name/james-lynch-obituary?id=39838174