It's 7:30 AM and Matt Dauria reports for duty — he has a long day ahead of him. As a manager in Environmental Services (ES), it is his job to lead his team to ensure patient safety, campus cleanliness and overall satisfaction. The day shift starts with a team huddle, during which everything from patient censuses to changes in procedure are discussed, before ES members are dispatched for the day.
Since the launch several weeks ago of the emergency response plan to COVID-19, Environmental Services has ramped up its efforts to make the Roswell Park facilities as safe as possible for our patients and staff members who continue to work on campus each day. Notably, the ES team transitioned from a two-shift model to a 24/7 operation to keep all of Roswell Park clean and well-serviced. The ultimate goal, Matt says, is to take patients' minds off their current situations, a mission inspired and perpetuated by the CARES training that is part of every ES meeting.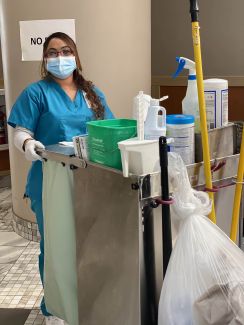 The training — CARES stands for Compassion, Accountability, Respect, Enthusiasm, and Service — is evident whenever you pass an ES team member and receive a cheery "hello." That excellence is underlined by the scores our ES team members receive: in a 2019 Press Ganey patient satisfaction survey, Roswell Park scored 90.9 in cleanliness and 93.6 in courtesy. The scores placed Roswell Park in the 88th and 93rd percentile in these categories nationwide.
"Service is part of what we are," Matt says of the ES team. Some ES duties lie strictly within staff job descriptions, and other duties extend to outside areas. "Whatever needs to be done," he explains, whether it's setting up for an event or finding an extra blanket for a patient who is cold. Matt trains his team to be observant when entering patient rooms, encouraging them to ask patients about their greeting cards or personal mementos.
Matt attributes his success to that of the entire Environmental Services team. "I couldn't do what I do without my whole team behind me," he says. Matt has worked in healthcare facilities management for more than 30 years, in most of the health systems in Western New York, and at systems in Ohio and West Virginia. While Matt came to Roswell Park as part of a contract position, he says he works for Roswell Park's mission: "We do one thing: fight cancer." He believes this mission is specific, direct and encompasses everything we do as one Roswell Park team.