The 92nd All Class Reunion is in two weeks: Thursday, July 28 thru Saturday, July 30! We have a few updates – see below for details or visit the Amherst All Class Reunion website!
Remember to get your tickets and/or RSVP to our free events by Friday, July 15. Ticketing/RSVP links for each event can be found below.
As a reminder:
For up-to-date information on what's new and what's next, follow the official Alumni Facebook page:
https://www.facebook.com/AmherstAlumni
Please also join the Amherst Central High School Alumni Facebook Group:
https://www.facebook.com/groups/2208143405
What to know more about the history of the Amherst Central Alumni Foundation? Read all about us here:
https://www.amherstalumni.org/Our-History.htm
For a full list of Class Reunions in 2022, visit the Reunions page of our website:
https://www.amherstalumni.org/reunions.htm
Go Orange! Go Black! Go Tigers!
Fondly,
2022 All Class Reunion Co-Chairs Whitney Manalio Creighton '95 & Maria Schenk '96,
Foundation Co-Presidents Nicole Hannotte Phillips '77 & Marilyn Rohl '70,
& the entire Amherst Central Alumni Foundation Board of Directors
---
The 90th (+2!) ALL CLASS REUNION is just around the corner! The weekend will be action packed with Amherst Tiger fun. Take a look at the schedule of events below. Please RSVP and get your tickets before July 15!
---
Prefer to register for the All Class Reunion by mail? Download the Registration Form here.
Can't attend? Consider making a donation. Your support directly strengthens, endorses and supports our mission to provide a superior educational and student experience in the Amherst Central School District. (Read all about the grants we have awarded since 2003 here!)
---
THURSDAY, JULY 28, 2022
Annual Golf Classic at Glen Oak Golf Course
11 Smith Road, East Amherst, NY 14051
Registration: 10:00am
Lunch: 11:00am
Shotgun Start: 12Noon
Dinner: 5:00pm
$175 includes 18 holes of golf, raffles, prizes, beer, wine and dinner
Not a golfer? Join us for dinner! $50 includes raffles & auctions, beer, wine + dinner!
REGISTRATION:
https://www.eventbrite.com/e/265967595237 or Venmo to @susan-fretz
Prefer to register for the Golf Classic by mail? Download the Registration Form here.
---
FRIDAY, JULY 29, 2022
Back-to-School Event at Amherst Central High School!
4301 Main Street, Amherst, NY 14226
1:30pm – 3:00pm
Walking Tour of Snyder, NY
Meet Snyder historian, Julianna Woite, at the ACHS flag pole at 1:30pm for a walk through history. Compare the Snyder landscape of yesteryear to the present and learn about the people and places that made Snyder what it is today!
TICKETS: SOLD OUT!

3:00pm – 7:00pm
Back-to-School
Open to the entire Amherst Central Schools community, this family-friendly event will feature tours of the newly renovated high school, Daily Bread & Sweet Melody's food trucks, music by Dave-N-Cyn of Busted Stuff, activities, and more!
TICKETS: FREE, but please RSVP
https://www.eventbrite.com/e/293836160867
7:00pm
Class Get Togethers
Each ACHS Class can use this time to connect at a venue of choice. For a full list of class reunions in 2022, please visit the Reunions page of the Alumni Foundation website!

---
SATURDAY, JULY 30, 2022
10:00am – 1:00pm
"Best of Buffalo" Double Decker Bus Tour
We will meet at Amherst Central High School and take a 3-hour historic, educational and humorous guided bus tour through downtown Buffalo which will include stops at ACHS Alumni owned Winkler & Samuels and Buffalo Brewing Company.
About the "Best of Buffalo" Tour:
Your guide is Officer O'Connor, an Irish cop from 1860 who brings to life all the hidden stories of the Queen City. Once aboard the bus, we'll explore:
How Buffalo Got its Name
Plight of the Irish Grain Scoopers
Pirates and Portuguese Fisherman of Buffalo's Secret Beach Community
How Booze and a Buffalo Dentist Helped Create the Electric Chair
The Triple Hanging at City Hall
The Naval Park and America's Most Famous Photo
Canalside
Seating is limited. Light snacks & refreshments are included!
TICKETS: SOLD OUT!
6:00pm – 10:00pm
An Evening of Celebration: Music, Dinner & Drinks at Resurgence Brewing Company
55 Chicago Street, Buffalo, NY 14204
Meet & mingle with your classmates as we celebrate 92 years of Amherst Central High School in a unique setting – a favorite hometown brewery! The event space at Resurgence allows you to experience their state-of-the-art brewing process up close.
The evening will feature music by Russ Burton Entertainment who will be spinning your favorite classics while you enjoy appetizers, food stations, sweet treats, cocktails & conversation long into the night. Share stories as you view a decade-by-decade slideshow of Amherst High School memories and toast to 92 years of orange & black spirit. Go Tigers!
TICKETS: $50 per person (cash bar)
https://www.eventbrite.com/e/293609121787 or Venmo to @susan-fretz
Safe, FREE parking is available in the Resurgence parking lot located directly next to the venue!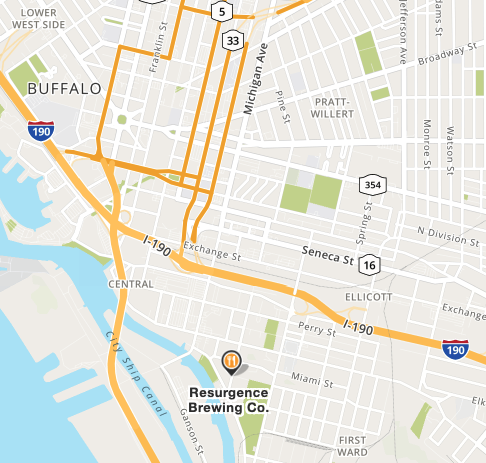 ---
HOTEL ACCOMMODATIONS
Marriott Buffalo LECOM HARBORCENTER
95 Main Street
Buffalo, NY 14203
Phone: 716-855-0049
Room rate $199.00 (plus taxes)
2-night minimum stay
Wednesday, Thursday, Friday and Saturday 7/27 – 7/30, 2022
Methods of Reservation:
Call Marriott Reservations 866-792-9206. Mention the Amherst High School 2022 All Class Reunion
Reservation Cut-off Date: 6/15/22
___________________________
Hampton Inn Williamsville
5455 Main Street
Williamsville, NY 14221
Phone: 716-632-0900
Room rate $139.00 (plus tax)
Wednesday, Thursday, Friday and Saturday 7/27 – 7/30, 2022
Methods of Reservation:
Call hotel direct and mention the Amherst High School 2022 All Class Reunion
Reservation Cut-off Date: 6/27/22
___________________________
The Mosey Buffalo Williamsville
5195 Main Street
Williamsville NY 14221
Phone: 716-276-9600
Room rate $145.00 (plus taxes)
Thursday. Friday, and Saturday 7/27 – 7/30, 2022
Method of Reservation:
Call the hotel direct and mention the Amherst High School 2022 All Class Reunion
Reservation Cut-off Date: 6/28/22
__________________________
Reikart House, Buffalo, A Tribute Portfolio Hotel
(formerly the Lord Amherst Hotel)
5000 Main Street
Amherst, NY 14226
Phone: 716-839-2200
Method of Reservation:
Call the hotel direct
Note: special rates do not apply
__________________________
Buffalo Marriott Niagara
1340 Millersport Highway
Amherst, NY 14221-2902
Phone: 716-689-6900
Room rate $129.00 (plus taxes)
Wednesday, Thursday, Friday, and Saturday 7/27 – 7/30, 2022
Methods of Reservation:
Call direct to hotel reservation line 716-636-4909 and mention Amherst High School Reunion 2022 All Class Reunion
Reservation Cut-off Date: 6/27/22
__________________________
Courtyard by Marriott Buffalo Downtown/Canalside
125 Main Street
Buffalo, NY 14203
Phone: 716-840-9566
Room rate $179.00 (plus taxes)
Wednesday, Thursday, Friday and Saturday 7/27 – 7/30, 2022
Methods of Reservation:
Call hotel direct and mention the Amherst High School 2022 All Class Reunion
Reservation Cut-off Date: 6/27/22
___________________________
Residence Inn By Marriott Buffalo Downtown
620 Delaware Avenue
Buffalo NY 14202
Phone: 716-247-5252
Methods of Reservation:
Call hotel direct and mention the Amherst High School 2022 All Class Reunion
Reservation Cut-off Date: 6/27/22
____________________________
Courtyard Buffalo Airport
4243 Genesee Street
Cheektowaga, NY 14225
Phone: 716-633-2700
Room rate $129.00 (plus taxes)
Wednesday, Thursday, Friday and Saturday 7/27 – 7/30, 2022
Method of Reservation:
Reservation Cut-off Date: 6/27/22
___________________________
Hyatt Place Buffalo Amherst
5020 Main Street
Amherst, NY 14226
Phone: 716-839-4040
Room rate: $149.00 King, $154 Queen (plus taxes)
Thursday, Friday, Saturday 7/28 – 7/30, 2022
Methods of Reservation:
Call hotel direct, or 1-888-HYATT HP (1-888-492-8847)
Our group/corporate number is G-AM90
Reservation Cut-off Date: 6/28/22
With all hotels, please mention "Amherst High School All Class Reunion." If you encounter difficulty with any property regarding making a reservation, please contact Clay Pasternack at 440.655.6180 or claypasternack@gmail.com